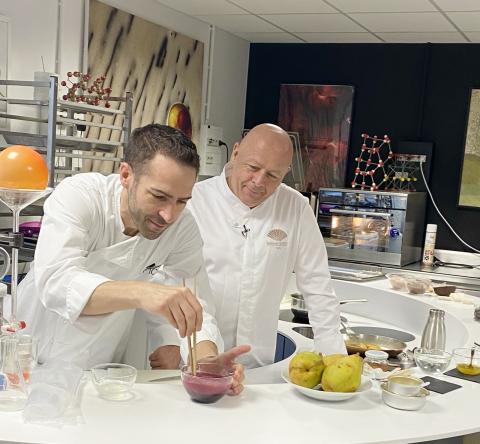 Chef Thierry Marx and researcher Raphaël Haumont whisk up a gastronomic space menu for the ESA
For his second mission to the International Space Station (ISS) in 2021, Thomas Pesquet, astronaut for the European Space Agency (ESA), will be taking with him a mouth-watering array of gastronomic meals that have been carefully imagined and created for his next flight to space. Some of the meals have been created for the ESA by Michelin-starred chef Thierry Marx and physical chemistry researcher Raphaël Haumont, both co-directors of the French Centre of Culinary Innovation (CFIC) at Université Paris-Saclay, and prepared and canned by the company Jean Hénaff. 
Collaborative innovation at its very best
Four new Michelin-starred dishes have been created to celebrate festive occasions on board the ISS: potato and Roscoff onion cakes with truffles, 7-hour slow-cooked beef with a cèpe sauce, an almond tart with caramelised pears and an experimental recipe made with freeze-dried cherry tomatoes. 
The interdisciplinary alliance behind the menu is an excellent example of collaborative innovation, and follows a successful cooperation in 2016 as part of the Proxima mission to launch French astronaut Thomas Pesquet to the ISS.
A true scientific, culinary and technical challenge
Original and exceptional recipes that combine pleasure, well-being and health
Michelin-starred chef, Thierry Marx, and physical chemist and professor at Université Paris-Saclay, Raphaël Haumont, developed the menu with a key goal in mind: create recipes that combine pleasure, well-being and health.
 

 

 

"We focused on recipes with a low sugar content and as few ingredients as possible. This was a new challenge. In order to make the almond tart without saccharose, we had to work on the texture of the pear pectin to bring a natural sweetness and gelling agent." - Thierry Marx.
Innovative manufacturing processes 
Creating meals that retain as much of their original texture and flavour as possible whilst respecting the requirements of space food is a particularly complex challenge that calls for specific technical and chemical processes.
 

 

 

 

"Creating a classic wine sauce without alcohol is a long process. The ethanol must be extracted using a rotary evaporator. The sauce is then analysed (NMR) to check for the absence of alcohol." Raphaël Haumont.
Freeze-drying, which consists of extracting the water from organic or mineral substances using vacuum and freezing techniques, was one of the preservation methods tested and extensively developed by the chef and the physical chemist. "We have developed an experimental recipe based on freeze-dried cherry tomatoes at the Orsay Institute of Molecular Chemistry and Materials (Icmmo- CNRS/Université Paris-Saclay) on the Orsay campus." The goal is to create dehydrated tomatoes that retain their colour, shape and flavour. "The final result has a highly-concentrated flavour. Tomatoes are made up of more than 90% water. Removing the water means multiplying the flavour by almost tenfold."
The experts carried out an in-depth study into the relationship between texture and cooking to optimise thermal treatment and retain as much of the food's flavour and texture as possible. For several weeks, the French Centre of Culinary Innovation (CFIC) and Jean Hénaff tested food samples with different cooking times and temperatures to determine the optimal temperature and cooking time for food preservation. Excessive cooking during the sterilisation process was found to damage the desired organoleptic properties.
Impeccable hygiene standards guaranteed
The meals are transferred to thermoformed containers by the Breton company Jean Hénaff, whose century-old savoir-faire in sealing and canning was recognised in 2016 when it was awarded the Entreprise du Patrimoine Vivant (Living Heritage Company or EPV) label.
"Our expertise consists of sealing the containers perfectly to ensure that they are completely airtight. We also ensure that the meals are canned correctly to preserve the meals' nutritional properties and flavours, so that the astronauts can be reunited with the familiar flavours of planet Earth and take pleasure in savouring their meals. Another challenge is ensuring the foods' microbiological safety." Carole Machut, Head of R&D for the Jean Hénaff Group.
The company meticulously assembles the food by hand and takes great care in presenting the meals. "The dishes' visual aspect can be comforting for astronauts. In terms of their organoleptic properties, we hope that the meals eaten in space will be as close as possible to those enjoyed on Earth."
Jean Hénaff is USDA compliant, which means that the company is authorised to export meat products to the United States. As a result, since 2011, the company has developed some 2,000 meals per year for the ISS. Jean Hénaff is one of only two French companies to have obtained this precious authorisation, which is based on strict regulations and requires companies to respect a rigorous health and food safety plan. 
The French Centre of Culinary Innovation (CFIC) is the result of a successful collaboration between Raphaël Haumont, professor at the Orsay Institute of Molecular Chemistry and Materials (CNRS/Université Paris-Saclay) and chef Thierry Marx. The shared laboratory is involved in fundamental and applied research, innovation, education and teaching projects. The laboratory coordinated the recipes developed by Thierry Marx for the European Space Agency (ESA). The Centre runs the University Chair "Cuisine du Futur", supported by the Fondation Paris-Saclay Université.